INDUSTRY CBD COMPLIANCE
CBD Compliance is important to us. Hemplucid operates in an industry that is only in its infancy, and as such, regulations are being introduced frequently. We acknowledge and accept our responsibility to remain conscious of the expectations which protect our industry and to uphold them for the safety and well-being of our customers.
* The statements found on this website have not been evaluated by the Food and Drug Administration. This product is not intended to diagnose, treat, cure, or prevent disease.
Exclusive CBD Farming and Agriculture.
Provides the highest quality CBD available. We encourage US growth to support our US economy.
Scientist, Researchers & Product Developers.
Gives peace of mind that Hemplucid products are cutting edge and comply with regulations.
No chemicals or pesticides are used.
Allows our customers to receive exactly what nature has produced.
Honor federal standards & restrictions
With respect for the law and regulation, we adjust our policy to benefit consumers.



CBD Oil 100% Certified and Lab Tested

The Independent third-party lab test results below show that Hemplucid CBD Oil is among the most pure and complete Whole-Plant CBD Oils available on the market.
CBD Water Soluble
Certificate ID #20011
Authorization: Chris Hudalla, CSO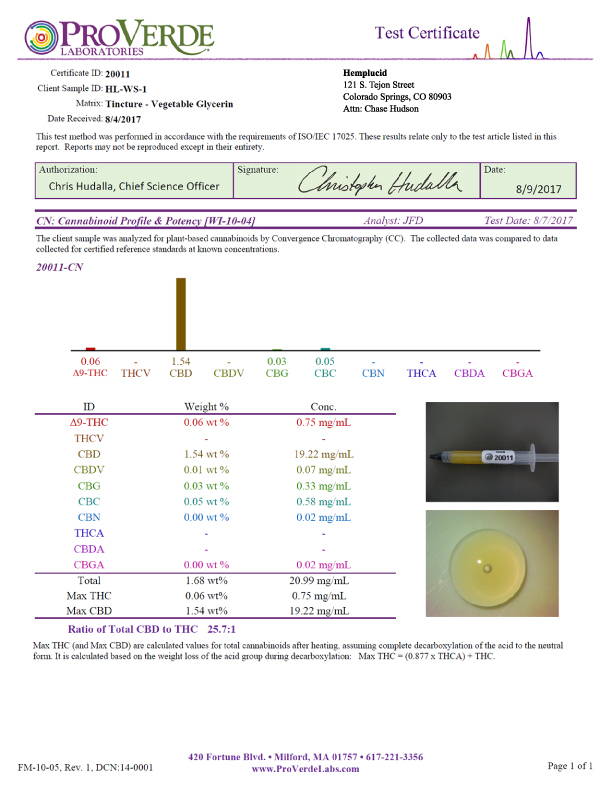 CBD MCT OIL
Certificate ID #25988
Authorization: Chris Hudalla, CSO
CBD Hemp Oil
Certificate ID #2008
Authorization: Chris Hudalla, CSO
CBD Vape Drip
Certificate ID #20010
Authorization: Chris Hudalla, CSO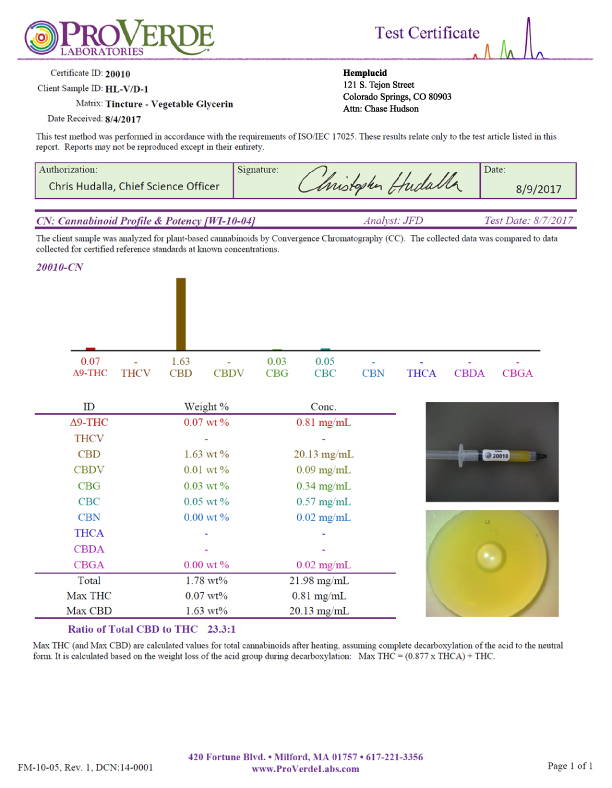 CBD Dab Wax
Certificate ID #20014
Authorization: Chris Hudalla, CSO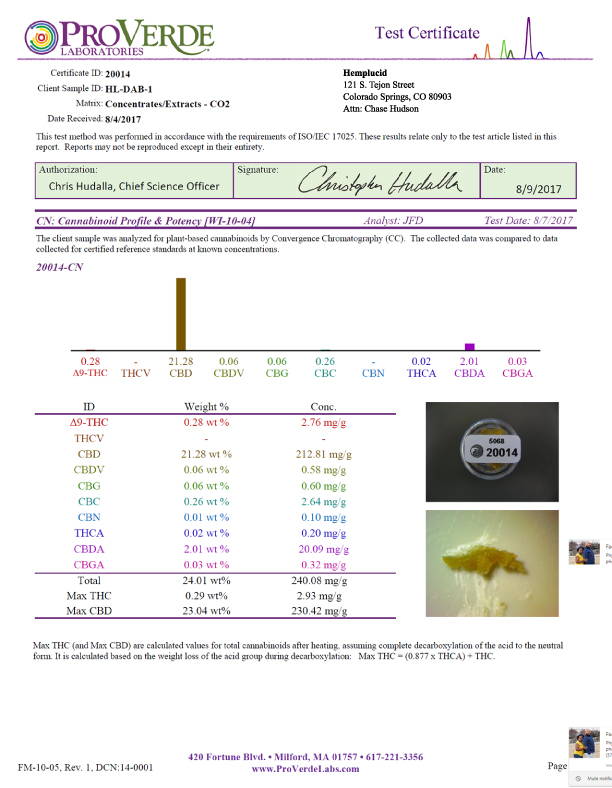 CBD Body Butter
Certificate ID #20012
Authorization: Chris Hudalla, CSO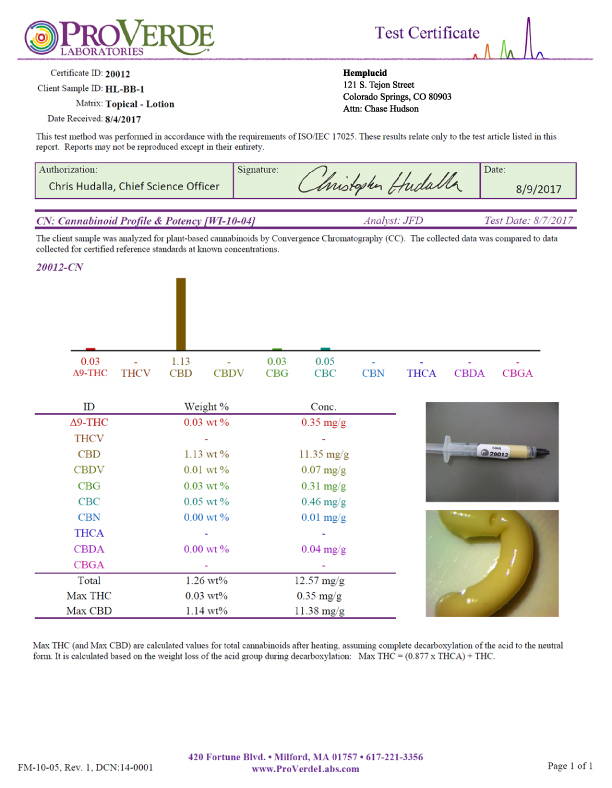 CBDa Lotion
Certificate ID #20013
Authorization: Chris Hudalla, CSO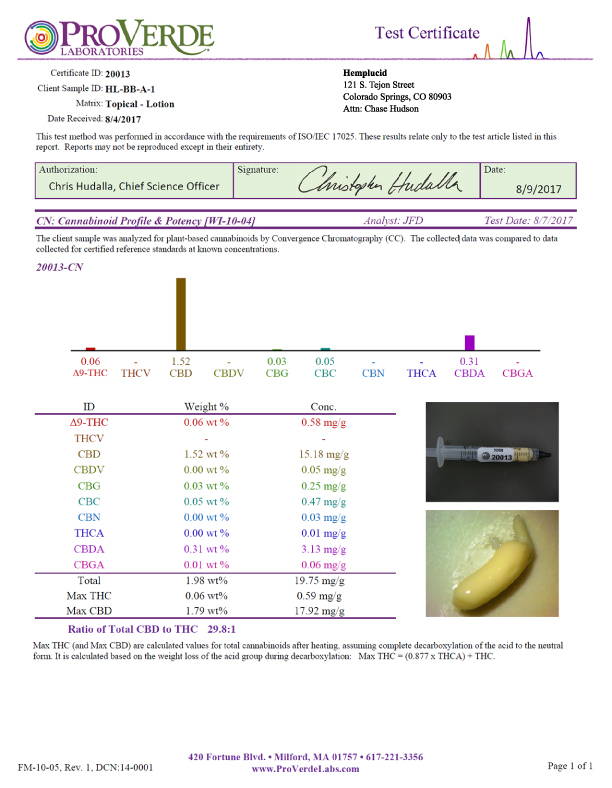 DO YOUR RESEARCH
Hard-wired throughout every human body is a system called the endocannabinoid system, comprised of receptors embedded in the brain, organs, glands, and connective tissues. These receptors are believed to be more numerous than any other receptor system found in the body. Once cells are stimulated with plant-based cannabinoids, a variety of physiologic processes work to metabolize and utilize the nourishing molecules, contributing to stable cell function and internal-environment homeostasis.
Research has shown that doses of CBD can trigger the body to build more endocannabinoid receptors, creating a regenerative web of healthy cells throughout the nervous system and the immune system. Occasionally first-time CBD users don't feel an effect, however, many could notice subtle emotional and cognitive benefits with sustained daily use. Holistic cell health is built and maintained, not just simply maintained.
CBD is a nutritional staple with proven efficacy in promoting well-being. Hemplucid is dedicated to providing a full-spectrum extract that leads the industry in purity and the delivery of vital cannabinoids.